SYNAPSIS Profiles ---- Arpan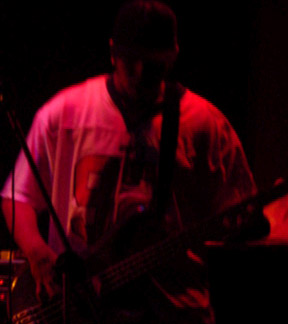 Name:
Arpan Desai
Date of Birth:
October 13, 1982
Instrument:
Bass
Gear:
Ibanez BTB510 Bass, SWR Bass750 amp, SWR Goliath III Cab, Korg DTR-2 Tuner, Furman PL-Plus Power Conditioner, dbx 160A Compressor, Monster Cables
Influences:

Dirk Lance, Victor Wooten, Flea, Justin Chancellor

Quote(s):
"Nobody is perfect. I am nobody. Therefore, I am perfect." – Anonymous

"Basses are like women. A little thumb action is fine. But pull the G-string to hard and you're in for trouble. – Anonymous

Q:
Who influenced you to be a musician?
A:
"My blind Grandpa. When I was 8 yrs old, I had a toy keyboard (piece of crap). One day my grandpa came to my house. He was a musician so he showed me how to play 'Happy Birthday' on it. Later I played it at my grandma's 85th birthday party (a huge event). After playing it in front of a large group of people, I got this huge applause. That's when I knew that playing music was for me."
[close]